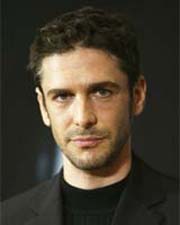 LEONARDO SBARAGLIA, ENRIQUE SZEWACH & LA NECESIDAD DE ... CAPITAL
"Todos los caminos conducen a Montesquieu" - Le Philosophe
Por AM
Entrevistado para la edición española de la revista
Esquire
, el actor Leonardo Sbaraglia da a conocer sus opiniones sobre las diferencias entre el cine en España y en la Argentina.
ESQ.- ¿Cómo es la industria del cine argentino?
LB. - La situación es buena en cuanto a talento, vitalidad, ideas ... Pero no es una industria real como la de aquí (España). De hecho, las grandes cintas no se harían sin dinero español.
¡Muy interesante! El cine argentino no es una industria, dice el Sr. Sbaraglia. ¿La razón? Falta capital. Acaso sin saberlo, el actor está resumiendo fragmentos esenciales de la Riqueza de las Naciones: allí donde no hay seguridad sobre the performance of contracts, NO PUEDE HABER INDUSTRIA (entendida como sector económico dinámico).
Enrique Szewach, en cambio, sí conoce a Adam Smith. No se pierda su última nota para Perfil (*). El economista desarrolla el argumento-clave del Libro I de La Riqueza, inspirado por Montesquieu, y ampliamente debatido en este blog: el alto costo del capital, atribuible a la ausencia de seguridad sobre the performance of contracts, pone un límite natural al salario. La CGT debería pedir seguridad jurídica. Es la única manera de atraer capital y de elevar los salarios. Brillante. Para archivar.