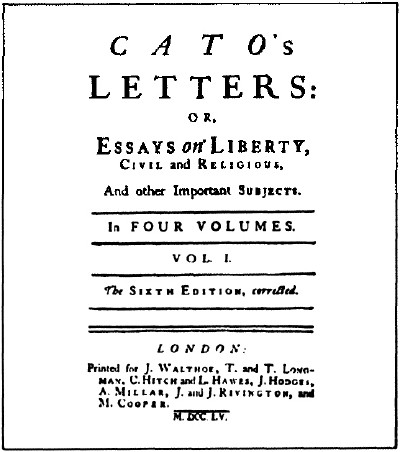 SEGURIDAD, CRÉDITO, RIESGO-PAÍS
"This whole Chapter of Bernier deserves every Man's Reading" — Trenchard & Gordon
AM |
@agumack
Lo estamos viendo todos los días: aumenta la inseguridad, bajan los depósitos en dólares, sube el riesgo-país, se desvanece el crédito de largo plazo en pesos. Sin embargo, los modelos económicos
no
captan estas relaciones. Pensados para países con propiedad estable y moneda sana, los esquemas tradicionales nos llevan a sobre-enfatizar el papel de la demanda de crédito del sector público como determinante-clave del costo del capital. No está mal — pero es solo parte de la realidad. En
Contrapesos
intentamos revivir la economía política del siglo XVIII,
previa
al dominio de la Inglaterra industrializada.
Recorriendo el blog, encontrará decenas de referencias a una idea que explica mucho mejor la realidad argentina: el crédito y la libertad política —entendida como
seguridad
sobre la vida y las posesiones— están íntimamente relacionados. No puede haber uno sin el otro. Llevo años intentando rastrear los orígenes de esta idea. Hasta hace un tiempo, estaba convencido que John Trenchard y Thomas Gordon, los autores de
Cato's Letters
, eran sus 'padres' intelectuales. Pero resulta que Trenchard y Gordon parten de un libro que ya había comentado:
Voyages de François Bernier. Contenant la Description des Etats du Grand Mogol de l'Hindoustan, du Royaume de Cachemire
[
ver
] (
1
,
2
).

* * *
Lo comprobé al leer, de pura casualidad, el artículo "Liberté politique" en el
volumen 23
del
Dictionnaire universel des sciences morale, économique, politique et diplomatique; ou Bibliothèque de l'homme-d'état et du citoyen
, editado en 1782 por M. Robinet (pp. 208-226). El artículo contiene unas
Réfléxions
d'un Anglois sur la nature, l'étendue & les avantages de la Liberté civile
, una traducción de la Carta
No. 67
de 'Catón', publicada en febrero de 1721, ya citada en
Contrapesos
[
ver
]. Los fragmentos relevantes sobre el crédito y la libertad política (seguridad) pueden ser vistos como un simple ejercicio de erudición, como un capítulo en la historia de las ideas, o como una de las mejores descripciones de ... la Argentina contemporánea:
There People will dare to own their being rich; there will be most People bred up to Trade, and Trade and traders will be most respected; and there the Interest of Money will be lower, and the Security of possessing it greater, than it ever can be in Tyrannical Governments, where Life and Property and all Things must depend upon the Humour of a Prince, the Caprice of a Minister, or the Demand of a Harlot. Under those Governments few People can have Money, and they that have must lock it up, or bury it to keep it; and dare not engage in large Designs, when the Advantages may be reaped by their rapacious Governors, or given up by them in a senseless and wicked Treaty: Besides, such Governors condemn Trade and Artificers; and only Men of the Sword, who have an Interest incompatible with Trade, are encouraged by them.

For these Reasons, Trade cannot be carried on so cheap as in free Countries; and whoever supplies the Commodity cheapest, will command the Market. In free Countries, Men bring out their Money for their Use, Pleasure, and Profit, and think of all Ways to employ it for their Interest and Advantage. New Projects are every day invented, new Trades searched after, new Manufactures set up; and when Tradesmen have nothing to fear but from those whom they trust, Credit will run high, and they will venture in Trade for many times as much as they are worth: But in arbitrary Countries, Men in Trade are every moment liable to be undone, without the Guilt of Sea or Wind, without the folly or treachery of their Correspondents, or their own want of Care or Industry [...].
Ahora la versión francesa de M. Robinet:
C'est là que les habitans oseront se vanter de leurs richesses ; c'est là qu'on formera la jeunesse au commerce ; & que le négoce & les négocians seront en honneur ; c'est là que les intérêts de l'argent seront plus bas, parce que chaque particulier jouira d'une plus grandes sureté dans ses possessions ; au-lieu que dans les Etats tyranniques, la vie, la propriété des sujets, toutes choses, en un mot, dépendent de l'humeur d'un prince, du caprice d'un ministre ou de la demande d'une courtisane. Sous ces gouvernemens, il est rare que le peuple ait de l'argent, & ceux qui en ont ne le perdent jamais de vue, ou l'ensevelissent afin de le mieux garder ; on ne forme pas de grandes entreprises, sur-tout quand on se doute que les avantages qu'on en retireroit pourroit exciter la rapacité des gouverneurs ; ou que l'on prévoit qu'ils n'auroient nul égard à la sainteté des traités. Il n'est que trop ordinaire d'ailleurs, que les gouverneurs ayent du mépris pour les commerçans & les artistes.

On ne considère que les hommes d'épée, dont l'intérêt est incompatible avec le commerce. C'est pour ces raisons que les négocians ne s'appliquent point à leur métier avec autant de satisfaction que dans les pays libres. Dans les pays libres, on dépense son argent pour son usage, son plaisir ou son profit. On cherche tous les
moyens de l'employer utilement & à son avantage. On invente chaque jour de nouveaux projets ; on imagine de nouvelles branches de commerce ; on établit de nouvelles manufactures. Quand les commerçans n'ont rien à craindre, si ce n'est de la part de ceux à qui ils confient leurs marchandises, le crédit ne peut manquer d'aller haut ; & chacun tâchera de se maintenir dans le commerce aussi long-temps qu'il le pourra. Mais dans un gouvernement arbitraire, le commerce est sujet à des révolutions bien plus dangereuses que la mer & les tempêtes. Sans rien craindre de leur correspondans, les négocians ne seront jamais certains de recueillir le fruit de leurs veilles & de leurs soins, ni l'artisan celui de son industrie.
_____________