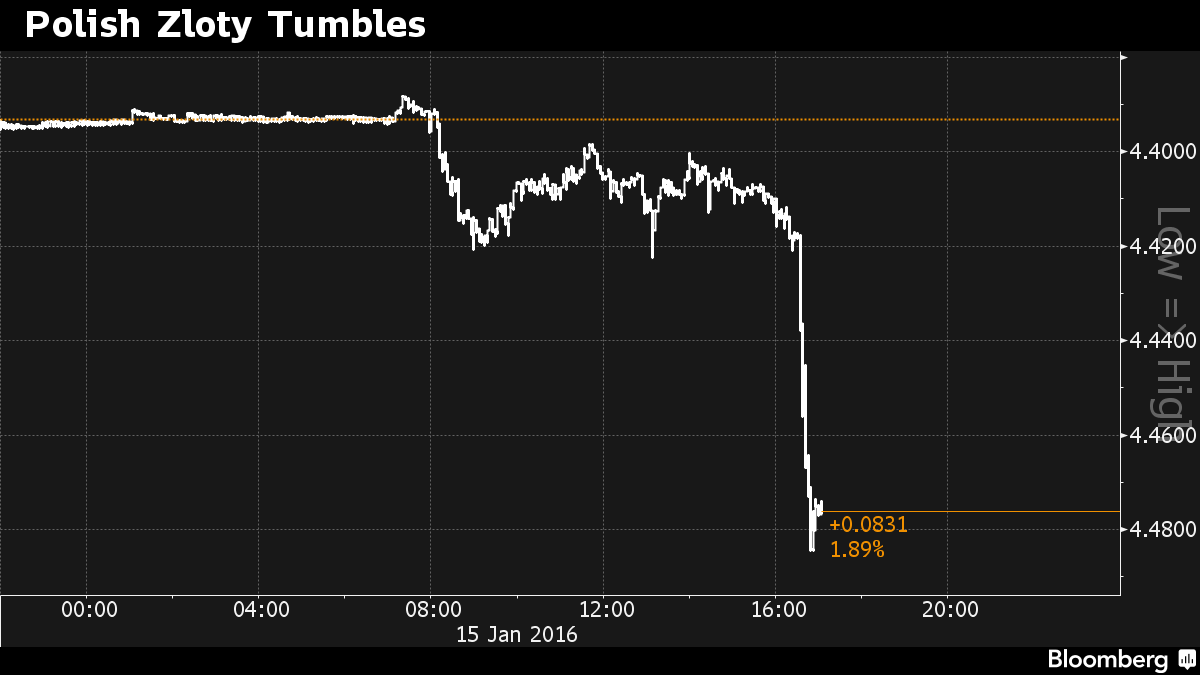 AM | @agumack
"

Le

despotism

e

naturali

se

l'usur

e

" — Montesquieu
Es un gran día para este blog, y para los estudiosos de los frenos y contrapesos institucionales o
checks and balances
. La agencia de calificación crediticia Standard & Poor's baja la nota de Polonia de A- a BBB+ con
outlook
negativo. Según S&P, la nueva calificación refleja las medidas del gobierno conservador que "debilitan la independencia y la efectividad de instituciones clave" [1]. Claramente, S&P piensa que la próxima institución en 'caer' será el banco central. ¿Leerán
Contrapesos
?
* * *
Éste es el párrafo importante, redactado por Felix Winnekens, analista de Polonia: "
La rebaja refleja nuestra visión según la cual el sistema de frenos y contrapesos institucionales ha sido significativamente debilitado
" [
ver
]. Mis amigos economistas me han criticado por plantear un vínculo entre los contrapesos institucionales —que garantizan la estabilidad de la propiedad al disminuir el
policy risk
— y la oferta de crédito. Formados con libros de texto publicados en los Estados Unidos, dan por sentado un orden institucional basado en la división de poderes y la independencia judicial.
Estos supuestos son más endebles de lo que parece—especialmente en países 'emergentes'. De ahí la necesidad de releer a los economistas clásicos como Trenchard y Gordon [
ver
], Montesquieu, Smith [
ver
], Galiani [
ver
], Beaumont [
ver
], Raynal y Necker [
ver
]. La nueva calificación de S&P equivale a una automática contracción en la oferta de crédito [2]. Al subir el costo del capital, el zloty se deprecia, refejando la natural (e instantánea) compensación vía un menor costo de la mano de obra. Es el resultado del ataque del ejecutivo polaco a la independencia judicial y a la libertad de prensa. Más claro imposible.
¡Qué bien funcionan las buenas teorías!
¡Qué gran día para este blog!
[1] Este es el texto (incompleto) de S&P según la agencia Reuters: "... the new government has weakened the independence of key institutions and the rating could fall further ... The downgrade reflects our view that Poland's system of institutional checks and balances has been eroded significantly [...] A law that moves the power to appoint the management of public broadcasters to the Treasury significantly weakens the independence of these institutions and has the potential to make them political instruments

[...]
The change in the rating outlook to negative reflects our view that there is potential for further erosion of the independence, credibility, and effectiveness of key institutions, especially the National Bank of Poland.

"
[2] Simón Quijano-Evans, de Commerzbank, comenta a Reuters: "Th
e message to other sovereigns out there is very clear: don't touch the constitutional framework that has been built up over so many years, or else a downgrade and a subsequent increase in funding costs will ensue". Note el vínculo entre el marco constitucional, el nivel de rating crediticio y el costo de fondeo.
___________