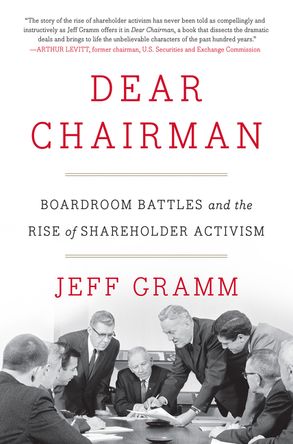 AM |
@agumack
"Checks and balances are our only security" — John Adams
[1]
Directores
. En países con bajo costo del capital, los miembros
independientes
del directorio de empresas intentan actuar como 'freno' o
check
ante el riesgo de decisiones impulsivas del
management
. Muchas de estas decisiones involucran costosas fusiones y adquisiciones que destruyen valor. Andrew Hill comenta el libro de Jeff Gramm
Dear Chairman. Board Battles and the Rise of Shareholder Activism
(New York: HarperCollins, 2016) (*). Gramm —inversor y profesor de la Columbia Business School— relata en detalle la pelea entre el CEO de General Motors Roger Smith y Ross Perot, el director independiente
que intentó frenar la desastrosa compra de Hughes Aircraft. Hill destaca "the value of true director independence". La historia es siempre la misma: se necesitan contrapesos institucionales (y liderazgo) para manejar los riesgos, bajar las tasas de descuento, y generar prosperidad—tanto en el gobierno de las empresas como en el de países. (Note el título de la nota y la referencia a
smug CEOs
y
somnolent shareholders
—para pensar).
(*) Andrew Hill: "Lasting lessons from smug CEOs and somnolent shareholders", Financial Times, 2 de febrero de 2016.
_______________
[2]
Sex ratio
. Los ataques sexuales de Colonia contribuyeron a cambiar la percepción sobre la llegada masiva de inmigrantes musulmanes a Alemania. La excelente nota de Roula Khalaf ayuda a entender lo que está pasando (*). No se trata de cómo una religión (el islam) percibe a las mujeres, sino simplemente del ...
sex ratio
de los inmigrantes. Khalaf cita a
Valerie Hudson
, profesora de ciencia política en Texas A&M University, y su explicación del 'efecto-patota' de un
sex ratio
tan sesgado hacia los varones: "When you get a surplus of young men in a society, you have the beginnings of a collective activity in which they take what society has denied them". Si esto es así, da lo mismo su religión—siempre actuarán como patota violenta. Por eso Canadá no tiene problema en recibir inmigrantes musulmanes, pero prefiere familias enteras. Khalaf concluye: "A normal sex ratio is a public good". Equilibrio, amigos, equilibrio.
(*) Roula Khalaf: "Cologne and the immigration sex ratio dilemma", Financial Times, 13 de enero de 2016.
_______________
[3]
China
. Daniel Bell publica una defensa del modelo político chino que une "meritocracy at the top, experimentation in the middle, and democracy at the bottom" (*). ¿No es acaso una versión del gobierno mixto de Aristóteles-Platón-Polibio? En todo caso, estamos en un momento interesante para testear estas ideas. Por un lado, el auge del populismo en Occidente muestra el cansancio de parte del electorado con nuestros modelos "one person, one vote", que Bell llama uno de los "key flaws of electoral democracy". Por otro lado, las cosas se están complicando en China. ¿Podrá su liderazgo 'meritocrático' convertir al país en un centro de crecimiento e innovación, ahora que el modelo de periferia exportadora parece agotado? Tengo serias dudas. A pesar de los problemas, la apuesta de buen gobierno sigue estando en Occidente—en particular en Europa del Norte, Canadá, Australia y Nueva Zelanda.
(*) Daniel A. Bell. The China Model: Political Meritocracy and the Limits of Democracy. Princeton University Press, 2015.
________________