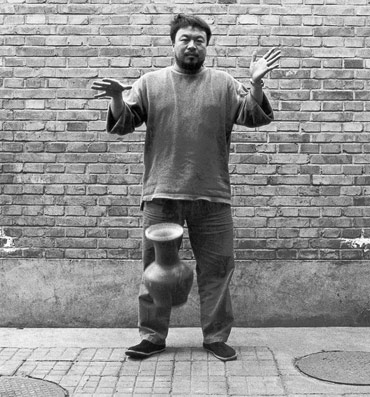 AI WEIWEI
"Ai loves China, and it is this affection which drives him to criticize the government" — Jacques Herzog
Por AM
Mi diario de cabecera, el indispensable
Financial Times
, tiene una notable entrevista al controvertido artista chino Ai Weiwei [foto] [
Twitter
]. Durante la Contra-Revolución Cultural, su padre —un escritor que había conocido a Mao— fue exiliado a los desiertos de Xinjiang. Su crimen: ser un
intelectual burgués
. Considerado por algunos como el "Andy Warhol chino", Ai Weiwei expuso este año en el
Haus der Kunst
en Munich [
ver
] y asesoró a los arquitectos suizos Herzog & de Meuron para el
diseño
del estadio olímpico de Beijing. Ai Weiwei es un entusiasta defensor de blogs y de Twitter. Uno de sus tweets dice: "
No outdoor sports can be more elegant than throwing stones at autocracy; no melees can be more exciting than those in cyberspace
". Sobre el final de la entrevista, Ai Weiwei se refiere a la cuestión de la libertad en China. Quedé como
mudo
durante unos instantes a leer estas líneas (estabamos tomando desayuno con Claudia y con un hermano mío). Hay mucha libertad en China, dice el artista. Pero hay un problema:
THE LACK OF AN INDEPENDENT JUDICIARY AND STATE LIMITS ON FREE SPEECH ARE FATAL FLAWS.
Ahí lo tiene. Un artista plástico chino condensa a Montesquieu en una simple frase, pronunciada en un restaurant de Hong-Kong entre dos copas de vino italiano. Ai Weiwei piensa que China es como un atleta muy veloz, pero con un problema cardíaco. ¡No puede llegar muy lejos! La enfermedad que lo aqueja es la ausencia de independencia judicial y de libertad de expresión. No se trata de un simple trastorno pasajero, sino de una enfermedad fatal. Ai Weiwei no se refiere a monarquía, comunismo o democracia; no le interesa el locus del poder, sino la manera en que se ejerce.
Inmejorable, Sr. Weiwei.
__________