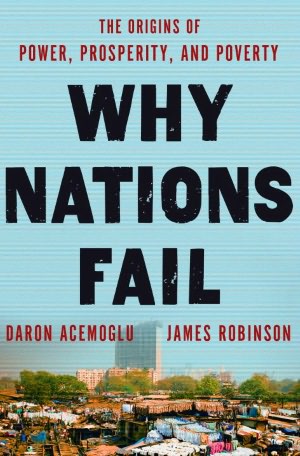 CORRESPONDENCIA LITERARIA No. 20
Libros vistos — Amsterdam, Barcelona, Leiden, París
Por AM |
@agumack
- James A. Robinson & Daron Acemoglu.
Why Nations Fail. The Origins of Power, Prosperity and
Poverty (Londres: Profile, 2012)
[
web
] [
blog
] [
Presentación
] [
VIDEO
] [Martin Wolf: "The prosperity puzzle", Financial Times][Francis Fukuyama: "Robinson and Acemoglu on Why Nations Fail", The American Interest].
Why Nations Fail
es el último gran libro dedicado a la importancia de las instituciones desde el punto de vista de la prosperidad y el éxito de las naciones. ¿Será por esto que la Argentina prohibe la importación de libros? De entrada, llama la atención el esfuerzo de los autores por promocionar la obra en las redes digitales: blog, página web, videos, Twitter (soy seguidor):
@WhyNationsFail
. La tesis de Robinson y Acemoglu es que la prosperidad depende de instituciones 'inclusivas', comenzando por tribunales de justicia capaces de asegurar el cumplimiento de los contratos. A
contrario sensu
, los países más pobres tienen instituciones 'extractivas', donde un liderazgo político tribal (palabra mía) se dedica a extraer recursos en beneficio propio. (¿Adivine dónde está la Argentina? Vea esta
pista
.)
_______________
- Charles C. Mann.
Tiger Head, Snake Tails: China Today, How it Got There and Where it is Heading
. (New York: Simon & Schuster, 2012)
[
web
][Chris Patten: "China puzzles", Financial Times].
¿Es China la próxima hiper-potencia mundial, o un gigante con pies (instituciones) de arcilla? La pregunta no es nueva. En el siglo XVIII, Voltaire y los fisiócratas se entusiasmaban por el despotismo ilustrado del Emperador y los mandarines, capaz de asegurar paz social y prosperidad a millones de seres humanos. Montesquieu y Diderot, por su lado, veían a China como un despotismo puro y simple, estático e incapaz de innovar en lo social y/o en lo económico. (En los capítulos 20 y 21 del Libro I de la
Historia de las dos Indias
, el libro de cabecera de Mariano Moreno, Raynal y Diderot presentan de manera magistral las dos posiciones). Según Chris Patten, el libro de Charles Mann presenta los argumentos de manera equilibrada: China no será hiper-dominante, pero tampoco colapsará. El tema es uno de los más interesantes (e importantes) para el futuro de la economía mundial.
Recursos. [
New York Review of Books
][
Claremont Review of Books
] [
Reseñas Frenos & Contrapesos
] [
@nytimesbooks
] [
Revista de Libros
] [
London Review of Books
] [
Pierre Assouline
] [
Harvard University Press
] [
Yale University Press
] [
The Atlantic Books
] [
Foreign Affairs
Books
] [
The William & Mary Quarterly
] [
AHR
] [
MIT Press
] [
The University of Chicago Press
].
______________