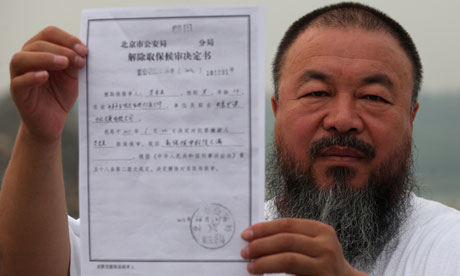 CONTRAPESOS: CUATRO BREVE NOTAS
"It isn't just my case" —
Ai Weiwei
AM |
@agumack
[1]
Ai Weiwei
. Un grande de verdad. Hay momentos en la historia de un país en los que se necesita la presencia de alguien con claridad moral: es el caso del artista chino Ai Weiwei. Ya lo hemos mencionado muchas veces en
Contrapesos
[
ver
]. En una memorable
entrevista
al
Financial Times
, el artista argumentaba que el principal problema de China era la ausencia de independencia judicial. Él mismo sufrió arrestos arbitrarios y juicios pre-fabricados. Pero ahora Ai Weiwei sale en defensa de los ex-miembros del Partido Comunista Bo Xilai y de Wang Lijun, arrestados este año en uno de los mayores escándalos de abuso de poder y corrupción (en Chongqing). Es decir: nada más opuesto a Ai Weiwei. Sin embargo, el artista defiende el derecho al proceso debido de Bo y de Wang. Salvando las distancias, su actitud recuerda la de John Adams defendiendo al capitán inglés Preston tras la
masacre de Boston
[
VIDEO
]. "Even if [Bo Xilai] is a criminal, there still should be an open process, a legal process, to handle it. But even today there is really no one who knows what has happened to Bo Xilai". Ya mismo estoy recortando y archivando el artículo.
(*) Leslie Hook: "Ai sees his own fate mirrored in purging of party high-flyres", Financial Times, 19 de julio de 2012.
___________
[2]
Alemania
. ¿Quiere saber por qué Alemania tiene tasas de interés negativas en sus títulos soberanos de corto plazo? ¿Y por qué el riesgo-país de la Argentina está donde está? Vea esta nota de Quentin Peel sobre las instituciones de la República Federal de Alemania (*). "The constitution was drafted after the second world war, under the influence of the US and the UK. The power of the centre is curbed by entrenched federalism, with the 16 federal regularly ganging up on the government. Everything has to be negociated by consensus in a coalition. On top of it all are
two great independent institutions
of the state designed to keep the government on edge: the constitutional court and the Bundesbank. Ms Merkel never seeks to issue instructions to, or express a strong opinion on, either. She treats the ECB in the same way". ¿Hace falta agregar algo?
(*) Quentin Peel: "Iron chancellor bends to the will of the judges", Financial Times, 17 de julio de 2012.
_____________
[3]
Rumanía
. Sé que puedo aburrir contando cosas de países alejados. Pero el punto es el siguiente: allí donde hay contrapesos institucionales —independencia judicial, libertad de prensa, banco central independiente— habrá seguridad, prosperidad, crédito y (relativa) igualdad. Y sino vea el caso de Rumanía, el país más pobre de la UE (*). El primer ministro Victor Ponta intenta deshacerse del presidente Traian Basescu al auto-otorgarse poderes extraordinarios, tras recortar los poderes del tribunal constitucional. Ahora interviene la UE, que da un plazo hasta fin de año para que se aclare la situación. El gobierno deberá "respetar la plena independencia del poder judicial, restablecer los poderes del tribunal constitucional y asegurar que sus decisiones sean observadas".
(*) James Fontanella-Kahn: "EU monitors to take stock of Romania's political crisis", Financial Times, 17 de julio de 2012.
______________
[4]
Canadá
. Impresionante nota sobre Canadá, uno de los países mejor gobernados del mundo (*). Si algún país tuviera que elegir una constitución, dice la Jueza Ruth Bader Ginsburg, no optaría por la de los Estados Unidos. Su reemplazante natural es el "
Canadian Charter of Rights and Freedoms
, achieving the status of legal superstar as it reaches its 30th birthday". A juzgar por la posición relativa de Canadá y los Estados Unidos en nuestro índice de
Contrapesos
, estoy completamente de acuerdo [
ver
]. Volveremos sobre el asunto.
(*) Stephen Marche: "
Why hardheaded Socialism Makes Canada Richer Than U.S
", Bloomberg.
______________