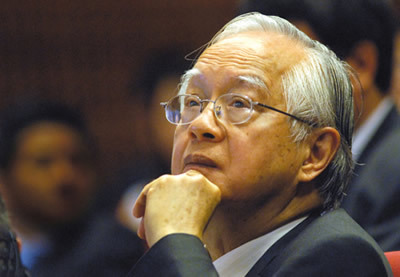 "...press freedom, civil rights and judicial independence"

—

Xi Jinping
Por AM |
@agumack
Imperdible artículo del
Wall Street Journal
sobre el economista Wu Jinglian y sus propuestas de cara al próximo plenario del Partido Capitalista Chino (*). Conocido como "Mr. Market" (y también como "Teacher Wu"), Wu Jinglian no duda sobre el tipo de medidas que deberían ser adoptadas para lograr la transición de China desde una periferia exportadora hacia un centro de crecimiento e innovación. Agárrese fuerte
— e
sto dice "Mr. Market":
What he proposes is to roll back the state's power over the economy, including state-owned enterprises that still dominate key industrial sectors. He also advocates making courts independent, penning a new constitution with a bill of rights, and introducing media freedoms—all of which would curb the broader power of the Communist Party. "For a task like this, there is no room for hesitation," he writes in one of his essays.
Ahí lo tiene. El economista más prestigioso de la segunda economía del planeta propone
—
como solución "de raíz"
— l
a adopción de contrapesos al poder político. El Sr. Wu no podría haber encontrado una definición más en línea con nuestro
Índice de Contrapesos
[
ver
]: independencia judicial, proceso debido y libertad de prensa para
contrarrestar
el poder del Partido y su
élite
privilegiada. ¡Espectacular! ¡Montesquieu en Beijing! (¿Estará leyendo este blog?)
* * *
La nota del
WSJ
menciona un volumen de ensayos de Wu Jinglian, traducido y editado por Barry Naughton en la Universidad de San Diego en California. Ya mismo me pongo a buscarlo. Porque falta una mejor explicación, desde el punto de vista económico, acerca del propósito de las medidas favorecidas por el profesor
—
más allá de la obvia importancia de luchar contra los "rent-seekers" del Partido.
Ésta es mi interpretación. El 'boom' chino ha sido posible gracias al
sweet spot
proporcionado por el bajo costo del capital
y
del trabajo. Pero ya no estamos en 'Japón-Alemania 1950-60s', sino en 'Japón-Alemania 1970-80s'. Ya han comenzado a subir los salarios; el verdadero costo del capital
—
todos lo saben
—
no se ve reflejado por el crédito bancario ultra-subsidiado que ha funcionado hasta ahora.
(*) Andrew Browne: "Mr. Market Seeks True Reform From Beijing", Wall Street Journal, 23 de octubre de 2013.
_______________