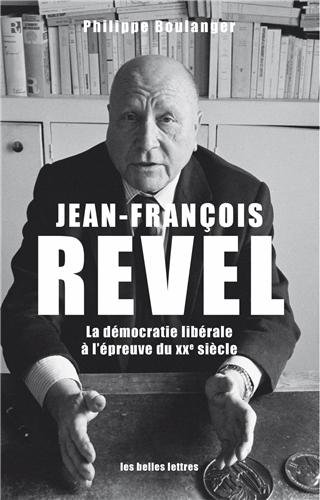 AM |
@agumack
"Le bon pouvoir n'émane pas du bon vouloir, mais du contre-pouvoir" — Jean-François Reve
l
-
Jean-François Revel
. En París vi esta interesante biografía intelectual del pensador francés Jean-François Revel (1924-2006), escrita por Philippe Boulanger (*). Algunas ideas: "Pour Revel, le bon pouvoir n'émane pas du bon vouloir, mais du contre-pouvoir" (p. 232). O sea: los contra-poderes tienen la virtud de poner los límites que hacen posible el "buen" poder. ¡Bravo, Mr. Boulanger! Revel lamentaba que los franceses no se sintieran "dueños" de sus instituciones políticas: "Les français ne pensent pas comme maîtres de leurs institutions". ¡Muy interesante! Lo mismo, en una escala mayor, ocurre en la Argentina; es, de alguna manera, el eterno problema del
tenure
[
ver
]. Otra reflexión de Revel: el ejecutivo se debilita a medida que acumula poderes — un clásico muchas veces debatido en
Contrapesos
. A medida que la Sra. CFK araña poderes, pierde
autoridad
. Elemental, Watson.
(*) Philippe Boulanger. Jean-François Revel. La démocratie libérale à l'épreuve du XXe siècle. Paris: Les Belles Lettres, 2014 [ver]. Mario Vargas Llosa: "Un pensador para el siglo XXI", El País, 23 de marzo 2014.
_____________
-
The Economist
. Federico Tiberti (
@federicotiberti
) 'pescó' este muy buen artículo de
The Economist
dedicado a los problemas de la democracia en el siglo XXI (*).
The Economist
defiende la idea de democracia, pero insiste en la necesidad de agregarle una dosis de frenos y contrapesos. Los 'arquitectos' de las nuevas democracias "must recognise that robust checks and balances are just as vital to the establishment of a healthy democracy as the right to vote [...] The power of the state needs to be checked". ¡Excelente! Con buen criterio, la revista reconoce que la independencia del banco central debe combinarse con la democracia. Y si los países del 'Norte' (incluyendo, valga la paradoja, Australia y NZ) han sido más exitosos, es porque "the notions of individual rights and independent judiciaries" llegaron antes que la ampliación del derecho de voto. ¡Buen punto! Destaco, finalmente, la presencia de la palabra
independent
, referida a la instituciones en general, al banco central, al poder judicial, a comisiones del Parlamento, a la prensa.
(*) The Economist: "What's gone wrong with democracy?", abril 2014.
_____________
-
Nueva Zelanda & Argentina
. Nueva Zelanda advierte sobre la inseguridad en la Argentina: "There is some risk in Argentina due to crime and we advise caution. New Zealanders in Argentina should be vigilant about personal security and avoid walking alone and at night. It is adviseable to avoid wearing or displaying items that appear valuable, such as jewellery, cameras and electronic devices. There have been reports of 'express kidnappings' in Argentina, where victims are forced to withdraw funds from ATMs to secure their release" (*). Es interesante constatar que el país-top en materia de contrapesos institucionales [
ver
] llame la atención sobre la inseguridad —sobre la vida, la libertad y las posesiones— en un país en el cual los contrapesos, justamente, brillan por su ausencia. Para un neocelandés es algo perfectamente lógico. Nosotros, en cambio, seguimos pensando en la inseguridad como un problema 'técnico,' desligado de nuestro subdesarrollo institucional (via
@MartaSalazar
).
(*) Safetravel New Zeland: "Argentina".
_____________
-
La Nación
. Buen editorial de
La Nación
sobre el colapso de la independencia judicial en la Argentina: "El Gobierno ha elaborado una lista de más de 300 conjueces para integrar distintas instancias judiciales, desde la Corte Suprema de Justicia de la Nación hasta tribunales inferiores. Muchos de los candidatos a cubrir cargos judiciales de esa manera, es decir, sin rendir examen en los concursos que exige la Constitución nacional, se caracterizan por la falta de antecedentes y por tratarse, en general, de abogados amigos de funcionarios o de probada militancia en el kirchnerismo o en organizaciones colaterales" (*). ¡Cornelius Tacitus en la Argentina! [
ver
]. Después nos sorprenden cosas como el auge de la inseguridad [
ver
] y la ausencia de crédito. Damas y caballeros: corrupción
es
ausencia de independencia judicial
es
inseguridad
es
falta de crédito. ¡Todos sinónimos!
(*) La Nación: "Justicia paralela para garantizar impunidad", 4 de mayo de 2014.
_____________