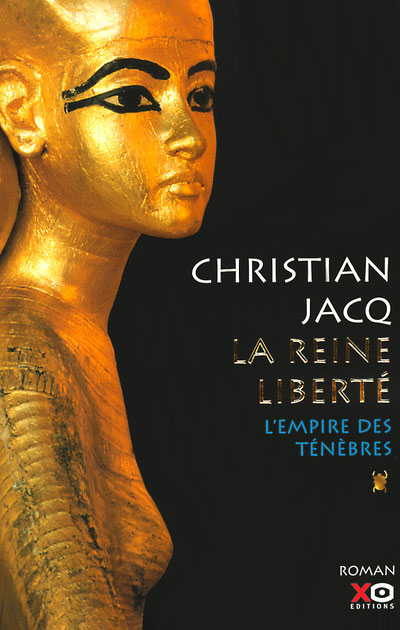 AM |
@agumack
"Checks and balances are our only security" — John Adams
[1]
La Reina Libertad
. Acabo de terminar otra trilogía de Christian Jacq:
La Reine Liberté
(*). El tema es la guerra de liberación de Egipto contra los invasores Hyksos en el siglo XVI BC. Una vez más Jacq consigue crear personajes atractivos: la reina Ahotep, los guerreros
L'Afghan
y
Le Moustachu
, y los simpáticos animales
Vent du Nord, Filou
y
Rieur
(
1
,
2
). En el norte de Egipto los Hyksos ejercen una espantosa dictadura—mezcla de Hitler-Mao-Stalin sin ideología.
* * *
Ahotep, la bella y valiente Reina-Libertad, inicia la reconquista desde Tebas, en el sur. Para ella solo cuenta exterminar a los Hyksos y recuperar la ley y el equilibrio (la diosa Maât) para Egipto. Su identificación con los dioses es total: se entiende que la palabra 'entusiasmo' viene de εν θεος—
en Dios
. En la dictadura Hyksos, el emperador se encarga de la justicia: "Les tribunaux ayant été supprimés, Apophis (el emperador) était le seul juge". Khamoudi, el último emperador, es un hiper-corrupto traficante de opio. Al final, el des-gobierno de los Hyksos termina por debilitarlos más que las proezas militares de los egipcios. Todo esto suena bastante conocido.
(*) Editados en París por XO Éditions: L'empire des ténèbres (2001), La guerre des couronnes (2002) y L'épée foudroyante (2002).
______________
[2]
Reserva Federal
. Interesante artículo de la Reserva Federal de Richmond sobre la independencia del banco central (*). Hay links a referencias bibliográficas, además de una breve historia de la independencia del banco central de los Estados Unidos. El clásico argumento está bien presentado:
The arguments in favor of independence derive from a central bank's monopoly over money creation. This monopoly carries with it certain powers that elected governments may be tempted to misuse for short-term benefits at the cost of rising inflation over time. Resisting such temptations requires a degree of commitment on the part of the central bank, and without independence, that commitment might be difficult to maintain.
Según la Fed de Richmond, los enormes poderes del banco central constituyen un riesgo, ya que la institución podría quedar aislada de las preocupaciones del público. (En nuestra terminología progresista diríamos: podría actuar como
corporación
). Pero este riesgo está minimizado por la gobernanza 'micro' de banco central, visible en la estructura
federal
del FOMC, con sus bancos de reserva independientes: "Several important checks and balances ensure that the Fed does not become insulated from public concerns". ¡Excelente!
Dos mini-comentarios: (1) en la Argentina, el BCRK no solo contribuye a destruir los contrapesos: su propia des-gobernanza 'micro' es una burla al federalismo; (2) cada vez veo más paralelos entre la administración de la moneda y de ... la justicia.
(*) "Central Bank Independence: Our Perspective", Federal Reserve Bank of Richmond, 9 de junio de 2014.
_______________