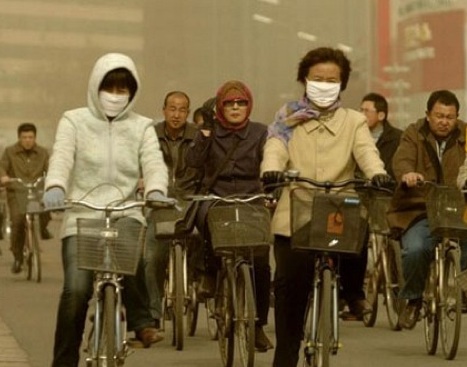 COSAS VISTAS ...
AM |
@agumack
-
China & el costo ambiental
. China mantiene, en líneas generales, una política económica de tipo Bretton-Woods II [
ver
]: tipo de cambio semi-fijo que valora los salarios a una fracción de los salarios en Occidente, acumulación de reservas, controles de cambio, etc. Dado el punto de partida —un stock de capital destruido por décadas de maoismo— los resultados han sido espectaculares. Pero claro, los costos son cada vez mayores. En esta nota, el
New York Times
llama la atención sobre los crecientes costos ambientales del 'modelo'. Problema: salir de Bretton Woods II equivale a graduarse desde una
periferia
exportadora a un
centro
de innovación. ¿Es posible con el actual
set-up institucional
?
(*) Edward Wong: "Outrage grows at China's air pollution", The New York Times.
_______________
-
Rusia
. Vladimir Vladimirovich Putin no ha cambiado — pero su país sí. Tras una década de 'boom' en el precio de los commodities, el electorado ruso se ha vuelto "richer, more sophisticated" (
Financial Times
) [
ver
]. El riesgo para el Kremlin es evidente: si decide intensificar la represión, tras los sorprendentes resultados electorales, la (escasa) confianza de la clase media-alta se evaporará — y con ella los capitales. El partido Rusia Unida perdió 77 escaños en la cámara baja, a pesar de extensas acusaciones de fraude. Nadie piensa que el Sr. Putin va a auto-limitar su poder. Una salida posible es el uso 'populista' del fondo de riqueza petrolera, de US$ 110bn. Un oligarca citado por el
Financial Times
concluye con amargura: "If nothing changes, this construction will collapse all by itself. It won't hold another five years" (*).
(*) A notar este tweet de
@TheEIU
: "An unfavourable demographic profile and weak institutions will constrain
#Russia
's long-term growth".
_______________