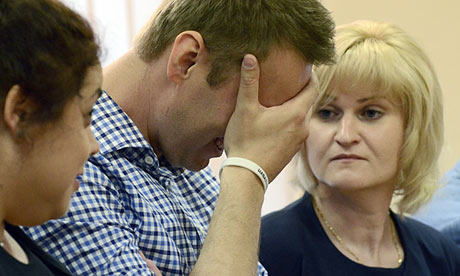 "La Corte le evitó al gobierno una crisis" — Enrique Szewach
AM |
@agumack
Fue impresionante ayer observar cómo, segundos después de conocido el fallo del tribunal de "justicia" que condenó al líder anti-corrupción Alexei Navalny, caían la Bolsa rusa y sus
Exchange Traded Funds
. Se trata de un proceso judicial completamente "trucho"; los cargos contra el Sr. Navalny son ridículos
—
están "armados" desde el poder ejecutivo para permitir al Sr. Putin deshacerse de un incómodo activista cívico. (El Sr. Navalny es anti-Putin pero no pro-Occidente, lo que lo convierte en más popular todavía).
* * *
El episodio ilustra
—
una vez más
—
una de las ideas-clave que defendemos en este blog: en ausencia de independencia judicial, aumenta el costo del capital [
ver
]; las mayores tasas de descuento deprimen el valor de los activos. En consecuencia, tarde o temprano la moneda debe colapsar para reflejar una baja (compensatoria) en el costo del trabajo. Por un tiempo, el proceso puede postergarse si sube el precio de los commodities
—
gas natural y petróleo crudo en Rusia, soja en la Argentina. Pero no hay cómo evitarlo: destruir la independencia judicial es un camino seguro hacia la pobreza, la inseguridad y la desigualdad (*).
Vale la pena transcribir algunas de las reacciones captadas por el
Financial Times
. Sergei Aleksashenko, ex-vice presidente del banco central, dice: "Navalny's sentence is the worst scenario for him, his family,
for Russia and for Putin
". Muy interesante: un economista opina sobre el impacto de un fallo "judicial"; correctamente, el Sr. Aleksashenko percibe el grave error de Putin. Sigue el
FT
:
Market participants predicted the five-year prison sentence would further damage Russia's ability to attract investment and retain a new generation of entrepreneurs. In the first hour after the verdict, Russia's main stock market fell 2 per cent, while market participants expressed fears it would increase the perception of political instability and make it harder to attract capital. "This is another negative for Russia's external image which makes it harder for Russia to attract investment", said Charlie Robertson at Renaissance Capital, the Moscow-based investment bank.
Oleg Tikov, a leading entrepreneur, said he was no supporter of Mr Navalny but added: "Now stocks will fall, capital will leave. There won't be any other articles in the press for a year. Our government takes one step forward and two steps backward. Is anyone in the Duma thinking?" Mikhail Prokhorov, the tycoon-turned-political leader, said: "From now on any person concluding a business contract with someone will know they can jail him for this at any moment. The sentence has a direct effect on the interests of small and medium businesses. How many talented businessmen and lawyers, I wonder, are already mentally packing their bags at this very moment?"
La situación de la Argentina no es muy diferente. Hay más jueces decentes en nuestro país (incluyendo los miembros de la Corte Suprema); pero el banco central de Rusia es más independiente. Una cosa compensa a la otra. Cualquier baja en el precio de los commodities precipitará un fenomenal colapso en la popularidad del Sr. Putin y/o de la Sra. Kirchner.
(*) Por eso acierta Enrique Szewach al afirmar que, cuando la Corte Suprema invalida la "democratización de la justicia", le está haciendo un favor a la Presidenta. Ver su nota: "Constitución", junio de 2013.
______________